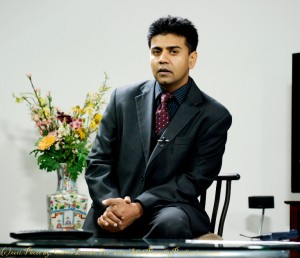 Shah Peerally, Esq.
President & Managing Attorney
Email [email protected]
Phone (510) 742 5887
Shah Peerally is the founder, President, and Managing Attorney of the Shah Peerally Law Group P.C. (Newark, California) and is a member of the American Immigration Lawyers Association as well as the State Bar of California. He is a passionate advocate of Human Rights, Civil Rights, social action, and social services, and he has a strong interest in (and knowledge of) the political/legal system in the U.S. He formed his Law Group to work on the causes he feels most ardent about – the law group focuses on Immigration Law with an emphasis on Employment Based Immigration, and helps clients all over the U.S.
Peerally's road to his professional expertise began with the achievement of his Juris Doctorate degree from the New College of California School of Law (San Francisco). He began his career as an Accountant for Mauritours Ltd and Union Shipping Ltd (1994-1996), and became an Associate for Mc Nichols Randick O'Dea & Tooliatos LLP (Pleasanton, CA) where he specialised in Litigation and Business Law (2003-2005). In 2005, Peerally became an Attorney of Counsel with Saad Ahmad & Associates; it was there (under the mentorship of Mr. Ahmad, one of the best immigration attorneys in the U.S.), that he made his debut as an Immigration Lawyer who knew the ins and outs of his trade. He further developed his expertise as an Immigration Lawyer at the Law Offices of Virender Kumar Goswami (2005) where he was an Attorney at Law and he handled various, complex immigration cases.
By 2005, Peerally was a master in his field, with the knowledge and expertise to handle even the most complicated immigration cases successfully; with his immense experience in the area, he decided he was ready to establish his own law firm: The Shah Peerally Law Group P.C. The group offers legal advise and handle cases to anyone seeking counsel in immigration procedures (individuals, families, asylum seekers, etc.). It specialises in Immigration Law and has handled many difficult cases; H-1B visas, Permanent Residence, Labor Certifications, Employment Based Green Card Petitions, citizenship cases, and many more. The firm's membership includes a very diverse, multilingual staff, who are able to communicate effectively with anyone seeking help with immigration procedures – among many of the spoken languages of the law firm are: French, Hindi, Arabic, Urdu, Spanish, etc.
Both Shah Peerally and the Shah Peerally Law Group P.C. have been acknowledged not only for their professionalism and expertise, but also for their contributions to the community. The law firm is renowned for its compassion, advocacy of civil rights, and social work; it often hosts pro bono workshops, awareness campaigns, etc. Peerally himself participates in various lectures, hosts free legal clinics, and is very active in the Middle Eastern, South Asian and African communities – Peerally believes that understanding the needs and situations of different people, is paramount to providing appropriate legal advise – communication is key. He is fluent in French and Creole, and has a limited ability to speak and understand Urdu – these language skills come in handy with many of his clients.
Peerally's proficiency and community spirited enterprise has not gone unnoticed. He has been commended by House Majority Leader Nancy Pelosi, and Congress woman Barbara Lee for his dedication and help in their immigration workshops. Among his many awards and recognitions are: 1) Peerally was rated as a Superb Lawyer on Avvo.com (2012) and he was rated for his years of experience, education, professional achievements, industry-recognition, etc. by clients, as well as other lawyers and industry advisers; 2) the Rising Star Award (2013 and 2014) from Super Lawyers (a rating service of outstanding lawyers), an award that is given after state-wide surveys of lawyers, and is only given to a select few who have achieved professional recognition and have displayed their vast knowledge and expertise; 3) he has also made it to the Northern California's Outstanding Young Lawyers list (2013 and 2014), which includes the top lawyers in the area each year. These awards are only given to a select few lawyers, based on their professional success/achievement and peer recognition.
Shah Peerally is a well renowned, respected member of the community and country at large; because of this, he has been able to give a voice to the people that need it the most and to raise awareness about Immigration Laws (in theory and in practice), as well as the effects they have on individuals, families, and communities. He has received significant interest from the media, with articles about him appearing in major newspapers (such as San Jose Mercury news, the Oakland Tribute, Careers 3600, Le Defi Mauritius, the US Fiji Times, etc.), as well as on television (on the Times Now and NDTV networks) where he has featured as an expert legal analyst. He also raises awareness for the social causes he cares about on KLOK 1170AM radio station, where he currently presents a law show twice a week.
To promote awareness and cultural diversity in the community, in 2009, Peerally founded the Attorney On Air radio station (broadcasting various law shows). His desire to promote his causes is not limited to television and radio. In 2014, Peerally became the founder of the website AudioBooksDiscussion.com; this is a free audio book discussion forum that encourages reading and dialogue on books. It is a platform for authors and readers to come together and talk about their different interpretations of different books. Peerally himself is an avid writer, and has written various articles on immigration (including The H4 Curse, an article about the effects the H4 visa has on families and individuals), and has also written a book (literary fiction) inspired by a true story of the horrendous experience of a family going through exceedingly difficult times, told through the perspective of an Immigration Lawyer.
Shah Peeraly is an exemplary Immigration Lawyer and member of the community. His professional expertise and dedication to human rights causes have gone a long way to improving the quality of life for many individuals, families and communities. For more information about how to get in touch with the Shah Peerally Law Group and seek their legal advise, see contact information on their website: www.peerallylaw.com.