Voluntary Departure as an Option for UNNJ cases.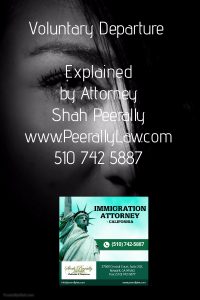 April 12 2016 – The UNNJ cases have brought back some really interesting concepts or reliefs which most people in the community has not experienced for a long time. One of them is the Voluntary Departure (VD).  VD might actually be an option once the Notice To Appear (NTA) has been issued and the individual wants to leave without triggering the inadmissibility bars of ten years of under INA §212(a)(9)(A). Note that in case there is an NTA issued, you cannot depart from the US without at least a VD.
In the most of the cases regarding UNNJ, individuals will be requesting VD before the hearing. This will require that at the Master Calendar hearing, the individual must show that he/she:
Waives or withdraws all other requests for relief;
Concedes removability;
Waives appeal of all issues;
Has not been convicted of an aggravated felony and is not a security risk; and
Shows clear and convincing evidence that he intends and has the financial ability to depart.

Since VD is given at the discretion of the judge, it is imperative that the respondent is ready to prove all of the above. Although a VD  might seem to be an ideal solution in the UNNJ cases, it is imperative to at least consult with an attorney before taking taking this relief.
Note that if you have more than 180 days of unlawful presence but less than 365, you will not be affected by the ten-years bar if you take a VD. In case you have more than 365 days of unlawful presence, then you might want to consider other reliefs such as asylum, marriage to US citizens or U visas (if any available) instead of the VD.  As such we recommend that you call a good lawyer to help. You can reach us at (510) 742 5887 and we will be glad to assess your case.