What is an EB1B Visa and Who Qualifies?
An EB1B is an immigrant visa in the EB1 category that is reserved for outstanding foreign professors and researchers. Eligibility is based on i) entering the accept a specific tenure track teaching position at an institution of higher learning or a permanent research position at a research organization, ii) having 3 years of experience teaching or researching in the field, iii) being recognized as "outstanding" in the field, and iv) if the employer is a private institution, the institution must prove employment of at least 3 researchers and document accomplishments in the field.The standard for EB1B is not as high as EB1A . "Outstanding" is defined on an international standard. Immigration laws have set out specific criteria to allow the foreign worker to prove that he or she is recognized internationally as being outstanding. Applicants may establish eligibility by providing at least two out of a group of several acceptable pieces of evidence including: receipt of major prizes of outstanding achievement in the academic field, published material of your work in professional publications, proof of original scientific or scholarly research contributions, etc.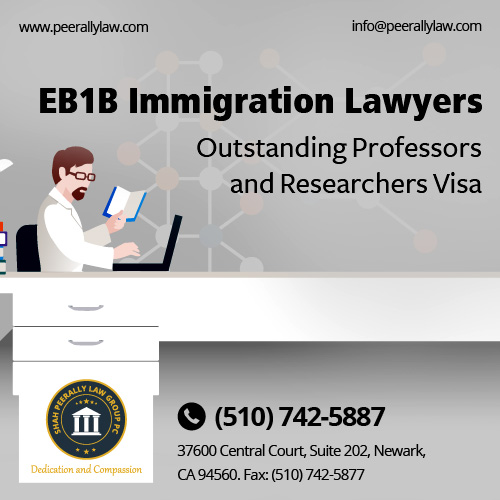 You will need a petitioning employer. As for experience, you can meet the 3 year experience requirement by combining teaching and researching experience. Also, experience gained while pursuing a Ph.D. degree is acceptable.
When can I Obtain an EB1B Visa?
Unlike other employment based categories, the quota for EB1 class petitions generally is never met, therefore, a visa or change of status to EB1 can be obtained as soon as the petition is approved. EB1 cases do not require any test of the US job market either. The process can be completed in a matter of months.
What are the Advantages and Limitations of EB1B?
As previously mentioned, the process for obtaining EB1 status is much faster than other employment based green card petitions.
The immigration service is hesitant to approve EB1B cases. Often, an EB2 or EB3 petition is a better, more realistic option.
What is the Attorney's Role in an EB1B Petition?
EB1B visa petitions should be presented in an organized manner. The cover letter must be written in such a way to highlight why the worker is an outstanding professor without confusing the case reviewer. Even if a worker is eligible for the EB1B classification on paper, the immigration service might not understand the significance of the worker's contributions. An attorney will be able to portray the candidate in a manner that the immigration service will clearly be able to understand.
An attorney will also be able to determine if the petition will have the appropriate documentation to meet the criteria. For example, a petitioner might believe that they will be able to meet the "membership in associations in the academic field" by showing membership in any professional organizations. The reviewing officer must be provided proof that only select, outstanding individuals may be members, and be shown the standard of admission. An attorney familiar with the evidentiary standards will be able to assess the likelihood of success, and will act as quality control to ensure that all supporting documents, including letters of reference, are acceptable. Those considering an EB1B petition should have an qualified immigration attorney assess whether they are an eligible candidate, and determine how to properly frame your specific academic field.
Contact Us
To discuss EB1B petitions and other alternatives with an experienced immigration lawyer from the Shah Peerally Law Group, feel free to contact us by email or call us at 510-742-5887.
Fees
Click the following link for our fee schedule — >Attorney Fees
EB-1 Testimonial
I went to Mr. , seeking his expertise for my request for evidence (RFE) on I140 – EB1 petition. I really appreciate his professionalism as he took my case from inbetween, as I filled my case myself initially. He decided to took my case, knowing he needs to went through my documents (a very bulky one) and that too in scientific field, within a very short period of time and to come up with a strong reply for the RFE is very challenging task, and for that I am really glad. The RFE was a difficult one, as under EB1 category you need to submit substantial evidences to proof you are in one of the top 5% in the field of expertise. Although I have provided such evidences initially but was not professional enough for the USCIS and they questioned me critically in the RFE. Shah was really good in pin pointing the supporting documents I need to arrange for making the case strong. I am really pleased about his service as he really went through my case in-depth reading all my work and finally preparing a very strong cover letter, that actually helped me in getting a favorable decision. – Mrinal S.
Click the following link for more testimonials — > Testimonials