What is an EB1C Visa and Who Qualifies?
An EB1C is an immigrant visa in the EB1 category that is reserved for executives and managers transferred from a multinational corporation.
An individual is eligible to obtain an EB1C visa if he or she will
i) be employed as an executive or manager,
ii) by a qualified company,
iii) for at least 1 of the past 3 years.
A qualified "executive" is an individual who directly manages the organization or a major part of the organization, sets goals and policies of the organization, has extensive decision making authority, and receives only general supervision and direction from superiors.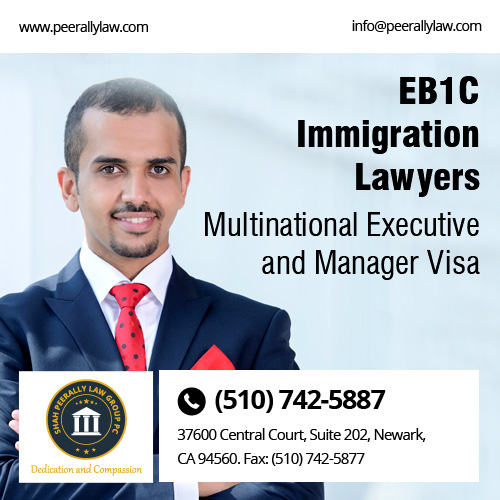 A qualified "manager" is an individual who manages at least a subdivision of an organization, and supervises and controls the work of other supervisory/professional/managerial employees, or manages an essential function of the business. Furthermore, a manager must have authority to employ and terminate those who are supervised or at least work at a senior level in the organization.
An organization is qualified if it is either a US affiliate, parent or subsidiary of a foreign business entity. The terms "affiliate," "parent," and "subsidiary" are defined by immigration regulations, and not by their generic meaning.
As for the requirement of 1 year of experience within the past 3 years, in cases where the employee is in the US on a non-immigrant visa (often an L-1A visa), "past 3 years" would mean the 3 years prior to admission to the US. The immigration service does have a bias against smaller companies, and there is often doubt that an individual can be qualified as an EB1C executive or manager when the US operation lacks a layered corporate structure.
When can I Obtain an EB1C Visa?
Unlike other employment based categories, the quota for EB1 class petitions generally is never met, therefore, a visa or change of status to EB1 can be obtained as soon as the petition is approved. EB1 cases do not require any test of the US job market either. The process can be completed in a matter of months.
What are the Advantages and Limitations of EB1C?
As previously mentioned, the process for obtaining EB1 status is much faster than other employment based green card petitions.
The immigration service is hesitant to approve EB1C cases for smaller US companies. Often, an EB2 or EB3 petition is a better, more realistic option.
What is the Attorney's Role in an EB1C Petition?
EB1C petitions should be presented in an organized manner. A professional understanding of the legal definitions relating to the US organization and the candidate's role as either an executive or manager is necessary in order to present an effective case. The cover letter must be written in such a way as to highlight how the organization is able to support an executive or manager. Simply reciting the legal definitions, and claiming that the worker will have such a role is highly unlikely to be acceptable to the immigration service. An attorney will be familiar with what documentation will meet the satisfaction of an immigration case reviewer.
Contact Us
To discuss EB1C petitions and other alternatives with an experienced immigration lawyer from the Shah Peerally Law Group, feel free to contact us by email or call us at 510-742-5887.
Fees
Click the following link for our fee schedule — >Attorney Fees
EB-1C Testimonial
"Shah processed my EB1C I-140 petition and he got it approved with out any RFE. My case was complicated as I came to the US in L1B , so the chances of getting a EB1C was going to be difficult. Shah requested for lot of supporting documents and this helped. Thanks to him, i have my I140 approved under EB1C category. He is now processing my I485.. – Dinesh H."
Click the following link for more testimonials — > Testimonials