What is a Public Access File?
A "public access file" must be maintained for each employee in H-1B status for whom an LCA is certified. Any interested person may inspect the public access file upon request. Employers should set up the public access file for the candidate. Ideally, the file should be kept separate from other files, such as personnel files. The requirement is based on 20 CFR 655.760, which provides that the must a filed labor condition application (LCA) and necessary supporting documentation available for public examination at the employer's principal place of business in the U.S. or at the place of employment within one working day after the date on which the labor condition application is filed with DOL. There is a list of specific forms of documentation that must be available in the public access file.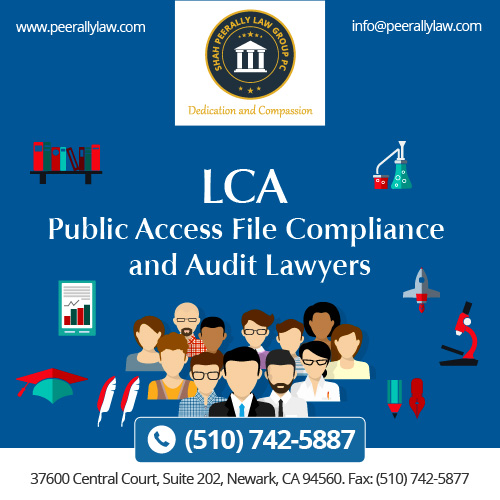 What is an LCA Public Access File Audit?
The Department of Labor (DOL) may perform audits of H-1B worker employers to determine if it is in compliance with public access file rules. Specifically, employers must retain copies of the records required by in the Public Access File for a period of one year beyond the last date on which any H-1B non-immigrant is employed under the labor condition application or, if no non-immigrants were employed under the labor condition application, one year from the date the labor condition application expired or was withdrawn. Required payroll records (W-2/pay-stubs) for the H-1B employees and other employees in the occupational classification must be retained at the employer's principal place of business in the U.S. or at the place of employment for a period of three years from the date(s) of the creation of the record.
What are the Consequences for not Complying?
Employers who fail to comply with the Department of Labor ("DOL") regulations may become subject to investigation, civil and administrative penalties, payment of back wages, and disbarment from participation in key immigration programs. If a company is assessed to be a willful violator of DOL regulations, burdensome pre-filing recruitment may be imposed upon its future H1B petitions.
Our LCA Public Access File Compliance Services:
In all H-1B petitions, we ensure that the client receives a public access file, and clear guidance on how to maintain it. Failure to create a public access file for every H-1B petition puts an employer at risk. We also provide counsel to our clients in the event of a DOL audit.
Contact Us
To discuss LCA Public Access File compliance and audits with an experienced immigration lawyer from the Shah Peerally Law Group, feel free to contact us by email or call us at 510-742-5887.
DOWNLOAD 'ATTORNEY ON AIR' FREE APP FOR AUDIO, VIDEO AND BLOG LEGAL UPDATES
| | |
| --- | --- |
| Android | Iphone |