PERM-Based Advanced Degree, Exceptional Ability, Professional, Skilled, and Unskilled Worker Visas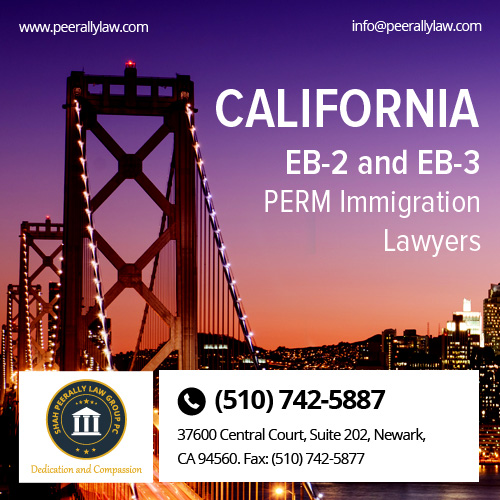 What is an EB-2 or EB-3 Visa and Who Qualifies?
EB-2 and EB-3 are "employment based" immigrant visas reserved for various classes of workers. EB-2 is reserved specifically for Advanced Degree professionals and Exceptional Ability Workers. EB-3 is reserved specifically for Professional, Skilled, and Unskilled Workers. The difference between the EB-2 and EB-3 category is how quickly one is able to apply for a green card. The basic criteria to qualify under these worker visas is i) the US employer must file a "labor certification" with the department of labor, ii) the foreign worker must have the required qualifications set in the labor certification application, and iii) the US worker must have the ability to pay the offered wage.
A "labor certification" is a document certifying that the employer has failed to find qualified US workers after testing the US job market. There are very specific recruitment steps that an employer must take before it can file a labor certification application. The application is filed under the online Program Electronic Review Management system (PERM). Months after filing the application under PERM, the Department of Labor (DOL) will issue a labor certification, which the employer will submit its petition to allow the foreign worker to apply for an employment-based green card. The employer should set appropriate job requirements and should not tailor them exactly to the employee's background. If you qualify for a National interest waiver (NIW) , then you can skip the labor certification process.
An EB-2 "advanced degree professional" is an individual working in a job requiring at least a US masters degree or a US bachelors degree with five years of progressive experience. The foreign worker with a foreign degree must have a single-source equivalent to qualify.
An EB-2 "exceptional ability worker" professional is an individual with exceptional ability in the science, arts, or business. The individual must prove exceptional ability by meeting three out of six exacting criteria, which includes ten years of full-time experience, a license to practice in the profession, and recognition for achievements and contributions to the industry.
An EB-3 "professional worker" is an individual working in a job in which the employer requires at least a US Bachelor's degree or single-source foreign degree equivalent.
An EB-3 "skilled worker" is an individual working in a job in which the employer requires at least a two years of job experience or a two-year degree/vocational training.
An EB-3 "unskilled worker" is an individual working in a job in which the employer requires some training or experience, but less than two years of higher education. Labor certifications are difficult to obtain in this category since it's difficult to demonstrate a lack of qualified US workers for such jobs.
Finally, proving ability to pay the offered wage is generally a matter of reviewing financial documentation, such as tax returns. If net annual income or net current assets show enough money to cover the foreign workers salary, the employer will have met the burden of proof. In cases where the employer is already employing the worker, paying the offered wage, pay stubs will be enough to prove ongoing ability to pay the offered wage.
When can I Obtain an EB-2 or EB-3 Visa?
The most current US Department of State "Visa Bulletin" will show how long people in EB-2 and EB-3 will have to wait to be able to apply for a green card based on their country of birth. If the priority date is "C" or "current," it means that green cards are immediately available. Your "priority date" is the date your employer filed their labor certification application for you.
What are the Advantages and Limitations of an EB-2 or EB-3 Visa Process?
When compared to EB-1 petitions, the clear advantage of the EB-2 and EB-3 process is that the likelihood of success is generally higher.
The limitation to EB-2 and EB-3 is the wait time, particularly for those who would qualify only under EB-3. Still, the consolation is that such workers are often eligible to enter the US or change status to H-1B , and may continue to extend their stay while they wait for their priority date to become current. For many foreigners without close US citizen relatives, this is the only feasible option to obtain a green card.
What is the Attorney's Role the EB-2 or EB-3 Visa Process?
Obtaining a green card in the EB-2 or EB-3 category is a highly complex, multi-phase process. In the recruitment and labor certification phase, the rules relating to setting job requirements, advertising specifications, and application completion are voluminous and very exacting. The DOL is unforgiving of mistakes. Employers are very restricted in what they can require of potential applicants. For example, an employer may not count any of the experience or training it provided the employee in setting job requirements. This rule also applies to the 5 years or progressive experience used to qualify Bachelor's Degree educated workers for EB-2. Substantial experience with PERM and I-140 petitions is required to learn how to avoid the many costly pitfalls associated with the EB-2 and EB-3 process.
Contact Us
To discuss the EB-2 or EB-3 visa process and other alternatives with an experienced immigration lawyer from the Shah Peerally Law Group, feel free to contact us by email or call us at 510-742-5887.
Fees
Click the following link for our fee schedule — > Attorney Fees
EB-2 Testimonial
" has been my immigration lawyer since last 2-2.5 years. Cases he handled were:
a) H-1 transfer from a hoax/corrupt body shopping company to other great company for which I am working since 2.5 years now.
b) Application of Green Card – LCA and I-140. In future he will be also taking care of my 485 application.
c)Temporary transfer to H-4 status from H-1.
d)Back to H-1 transfer from H-4.
The issues he resolved might seem simple,but they were very complicated considering number of factors especially timeline and legal issues. He believes in following legal means which are in accordance with USCIS which is a great plus! He works deligently, responsibly and in timely fashion. He keeps himself well updated about the rules,regulations and changes at USCIS. He has great communication skills and made sure to convey clearly all the possible things that could go wrong and could go right with my immigration issues. I would say he guided me well in making decisions.. – Shilpa T."
Click the following link for more testimonials — > Testimonials