What is an H-1B Visa and Who Qualifies?
H-1B is the most popular work visa in the H class of nonimmigrant visas. Our law firm has processed hundreds of H1B cases and our attorneys are among the best of H1B lawyers in California. In general, an H-1B visa is for a foreign worker coming to the US to temporarily perform services in a specialty occupation for a US employer. Of paramount concern is i) whether the job is in "specialty occupation," ii) whether the worker has the qualifications, and iii) whether the employer is a "US employer."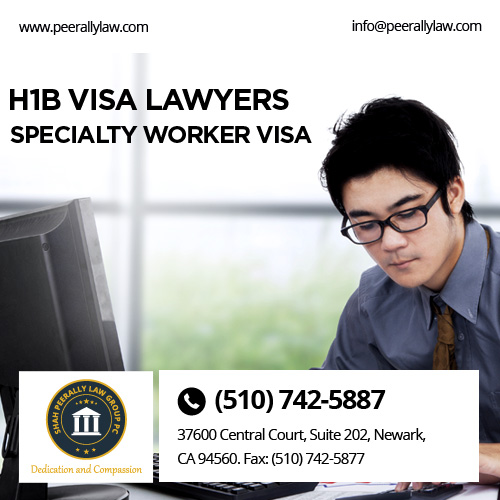 A "specialty occupation" is simply one where at least a US Bachelor's degree (or foreign equivalent) in a specific discipline is required for the job. So how do we determine whether a specific type of Bachelors degree is required for the job? Generally, we have to research sources that the immigration service considers authoritative, which specifically state that a Bachelor's degree in a specific field is required. For example, it is clearly established that a Financial Analyst requires a Bachelor's degree in Business Administration or a related field. In cases where authoritative sources are not clear whether the job requires a specific type of degree, the Immigration and Nationality Act (INA) dictates that there are alternate methods to prove that the specific job offered indeed requires a degree.
Sometimes the worker does not have the precise educational qualifications for the job, but this is not fatal to the application; there are alternatives. Those with Associates degrees, or even no degree at all, can be qualified as having the equivalent of a Bachelor's degree when proving that they have the experience to make up for the years of education that they lack. There are also additional requirements which the visa applicant must establish, such as expertise in the field. Also, in some cases, the individual has a Bachelor's degree that is incongruous to the job offered. Such issues may be effectively resolved by an experienced and creative lawyer.
The petition itself is made by a "US employer." Basically, a US employer is a company that possesses a tax ID number. However, the Immigration Service will also expect the employer to prove that it is positioned to offer the job. The employer must establish that it will pay at least the prevailing wage, and that the nature of its business is such that it would be able to offer the job. For example, a small computer repair shop would have a hard time proving that they would need a market research analyst.
When can I Obtain an H-1B Visa?
H-1B visas are generally rationed out every year, starting on October 1st, and the earliest one may file for an H-1B visa is April 1st. In previous years, the quota for issuing H-1B visas was met in the first week of April, but in some instances, notably for the 2010 fiscal year cap, H-1B visas were available up until December. There are limited exceptions to the quota.
What are the Advantages and Limitations of an H-1B?
An advantage of the H-1B visa is that it is considered a "dual intent" visa. This means that you may have immigrant visa petitions (green card) pending, and still have no problem in applying for H-1B extensions. You may remain in H-1B status for up to 6 years, but unlike some other work visa statuses, you may extend your status even past the statutory limit under certain conditions where an employment based immigrant application process is pending. This makes H-1B is an ideal stepping stone to obtaining a green card.
The main limitation to the H-1B visa is that your dependents, which would be in the US on H-4 status, are unable to obtain work authorization. Also, as previously mentioned, H-1B visas are not available year-round for most applicants.
What is the Attorney's Role in an H-1B Petition?
Documenting eligibility for H-1B visa petitions, both from the employer's side and worker's side, is not an intuitive process. Even in cases where a petition includes the necessary documents, they should be presented in a logically organized format so that the immigration officer reviewing the case is lead to make a favorable decision. Particularly in cases where the job offered is arguably not a "specialty occupation" and the employee does not have the normal qualifications, a good immigration attorney is essential to present a strong, convincing case. Special care must be made in filing the case using the proper job title and occupational code, since some occupations, even if a bachelor's degree is normally required, may still not qualify for H1B (the key is to establish that a degree in a specialty field is generally required).
Additionally, employers must meet specific obligations by law, which includes maintaining possession of a properly prepared public access file for every H-1B petition filed. In the event of an audit in which the employer is caught failing to meeting these requirements, fines and restrictions can be imposed. To protect our corporate clients from liability, we ensure that they meet their legal obligations.
Contact Us
To discuss H-1B visa petitions and other alternatives with an experienced immigration lawyer from the Shah Peerally Law Group, feel free to contact us by email or call us at 510-742-5887. Our staff is multi-lingual, with members who speak Spanish, French, Hindi, Urdu, Punjabi, Tigrigna, and Amharic.
Fees
Click the following link for our fee schedule — > Attorney Fees
H1B/EB2 Testimonial
"I met Attorney Shah when i was desperately looking for an immigration lawyer who can work with my h1b transfer and eb2 petition. As I have very bad experience with my previous employer and their attorney.
Attorney worked with my case he is very knowledgeable, and hard working, every letter from employer, RFE from USCIS or any problems or concerns regarding my petition he always made sure that I am updated. He even contacted FCCPT regarding the Master's degree requirement.
I really appreciate all their hardwork, from Atty. Shah, Atty , and their assistant. They are very intelligent, diligent and very nice person. I highly recommend their law office as I am pretty sure that they will do their best to help us get our greencard. 🙂
Thank you so much for helping me get my greencard! I am so blessed to have you as my attorney. More power and God bless! -Jen S."
Click the following link for more testimonials — > Testimonials
Download
Free app for Audio, Video and Blog