What is EB 1A- Extraordinary Ability classification?
The EB-1 extraordinary ability classification is for people who are recognized as being at the very top of their field and who are coming to the United States to continue work in that field.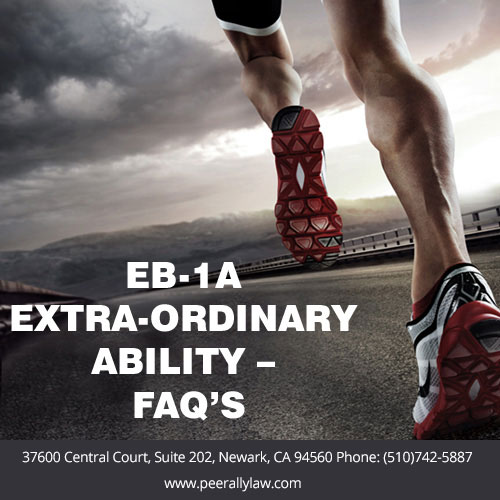 Who may qualify for EB1 A- Extra-Ordinary Ability?
One may qualify EB1 A- Extra-Ordinary Ability if he/she
Has extraordinary ability in the sciences, arts, education, business, or athletics which has been demonstrated by sustained national or international acclaim and whose achievements have been recognized in the field through extensive documentation,
Seeks to enter the United States to continue work in the area of extraordinary ability, and
His/her entry into the United States will substantially benefit prospectively the United States.
Can I apply for EB1 A if I don't have any major international award of renowned repute?
You may establish eligibility to apply in EB1 A category if –
You provide at least three out of a group of several acceptable pieces of evidence including: proof of lesser national or international prizes of excellence, published material of your excellence in major publications, evidence of commanding exceptionally high compensation, etc.
You do not need a job offer, but you should demonstrate that you are seeking to enter the US to work and substantially benefit the US.
What are the requirements for Demonstrating Extraordinary Ability?
Requirement 1 –
You must answer yes and submit evidence for at least 3 of the 10 questions below:
Have you received any lesser nationally or internationally recognized prizes or awards for excellence in the field of endeavor?
Are you a member of associations that require outstanding achievements of their members as judged by recognized national or international experts?
Is there published material in professional or major trade publications or major media about you which relates to your work in the field?
Have you participated on a panel or individually as a judge of the work of others in the same or in an allied field of specialization?
Have you made original scientific, scholarly or business contributions that are of major significance?
Have you authored scholarly articles in professional journals or other major media?
Has your work been displayed at artistic exhibitions or showcases?
Have you played a leading or critical role for an organization with a distinguished reputation?
Have you or will you command a high salary or other remuneration for your services in comparison to others in your field?
Have you enjoyed commercial successes in the performing arts?
If you are able to show that you meet at least 3 of the above regulatory criteria, USCIS will then review all of the evidence in the record in its totality to determine if it is more likely than not that you have sustained national or international acclaim and are one of that small percentage who has risen to the very top of the field of endeavor. As such, it is important to show, for example, the significance of the work of others you judged, the significance and importance of the scholarly works you created, and the degree to which the salary or other remuneration you commanded (or will command) was higher than others in your field.
Requirement 2-
You must be able to establish that you are coming to the United States to continue to work in your area of extraordinary ability.
Some of the evidence you may submit to demonstrate that you are coming to the United States to continue to work in your area of extraordinary ability includes:
Letters from current or prospective employers
Documents evidencing your prearranged commitments (e.g. contracts)
A statement detailing your plans on how you intend to continue working in your field in the United States.
Is job offer and labor certification required to file petition under EB-1A category?
No.An advantage of the EB1A over the other EB1 petitions is job offer and labor certification are not the prerequisites.
Who may file a petition under EB-1A?
As job offer is not required to file this petition, you yourself may file your own petition with USCIS for classification in this preference. If you are employed, your employer can file the petition as a sponsor of the foreign national.
What form is used to petition under EB-1A?
Form I-140- Immigrant Petition for Alien Worker is filed to petition under EB-1A
What is the filing fee for from I-140?
The USCIS fee for filing Form I-140 is $580.
Can I request premium processing for my I-140 petition?
Yes. You can request premium processing for your I-140 petition. Along with form I 140, you will have to file form 907 with additional fee of $1225.
Can I request Premium Processing when my I-140 is pending?
Yes. You can request premium processing when your I-140 petition is pending.  You will have to file Form I-907 with the Service Center where your Form I-140 is pending. Do not send requests for Premium Processing to a USCIS Lockbox facility. Along with the form I 907, you must send a copy of Form I-797C, Notice of Action, which shows your Form I-140 was accepted, or a copy of the transfer notice, if applicable, showing the location of Form I-140.
How can a petition be filed?
Form I 140 can be filed by mail or by electronically. If you e-file the petition, all the supporting documents need to be sent to the service station by mail.
If you are e-filing Form I-140, it will automatically be routed to the appropriate Service Center, and you will receive a receipt indicating the location to which it was routed. For e-filed petitions, it is very important to review your filing receipt and receipt number and make note of the receiving location. All further communication, including submission of supporting documents, must be directed to the receiving location indicated on your e-filing receipt.
What are the steps involved in the processing of my petition? (Processing Information)
Initial Processing –
Once the form I 140 has been accepted, it will be checked for completeness, including submission of the required initial evidence. If you do not completely fill out the form or file it without required initial evidence, you will not establish a basis for eligibility and USCIS may deny your form I 140.
Request for more information or interview –
USCIS may request more evidence or may request you to appear at USCIS office for an interview. USCIS may request to submit the originals of any copy. USCIS will return the originals when they are not required.
Decision –
The decision on a form I 140 involves a determination of whether you have established eligibility for the requested benefit. You will be notified of the decision in writing.
Can I request the withdrawal of a Form I-140 petition? How can I do so?
The petitioner or the Form G-28 representative may send a letter requesting to withdraw the I-140 petition to USCIS
Withdrawal requests should include:
A statement indicating that the Form I-140 petitioner wishes to withdraw the petition;
The Form I-140 petition receipt number;
The name, address and phone number of the petitioner;
The name of the alien beneficiary;
The alien registration number of the alien beneficiary, if known;
The petitioner's signature or the Form G-28 representative.
My petition is approved. What's next?
Approval of a petition means you have established that the person you are filing for is eligible for the requested classification.
This is 1st step towards permanent residence. However this does not in itself grant permanent residence or employment authorization. You will be given information about the requirements for the person to receive an immigrant visa or to adjust status after your petition is approved.
Sources – Understanding the EB-1 Requirements for Extraordinary Ability – available at http://www.uscis.gov/eir/visa-guide/eb-1-extraordinary-ability/understanding-eb-1-requirements-extraordinary-ability
Instructions for petition for alien worker – available at http://www.uscis.gov/sites/default/files/files/form/i-140instr.pdf
Employment-Based Immigration: First Preference EB-1 – available at http://www.uscis.gov/working-united-states/permanent-workers/employment-based-immigration-first-preference-eb-1