The second-preference employment category (EB-2) allows individuals of exceptional ability and individuals who are members of the professions holding advanced degrees to get a green card (permanent residence).
While a job offer and a labor certification is generally required for EB-2 visas, this requirement can be waived if the petitioner demonstrates that granting the EB-2 petition would be in the national interest of the United States. For example, USCIS may grant the national interest waiver (NIW) because a physician agrees to work for a period of time in a designated under served area.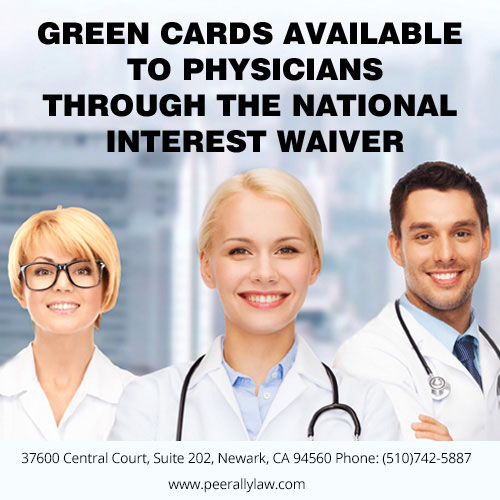 For EB-2 purposes, "exceptional ability" is defined as "a degree of expertise significantly above that ordinarily encountered in the sciences, arts, or business." To prove exceptional ability, any three of the following must be shown: A degree relating to the area of exceptional ability; a letter from the current or former employer showing at least 10 years of experience; a license to practice the profession; the applicant has commanded a salary or remuneration demonstrating exceptional ability; membership is a professional association; or, recognition for achievements and significant contributions to the industry or field by peers, governmental entities, or professional or business organizations.
The "advanced degree" requirement is typically defined as above a B.A. (or its foreign equivalent as determined by the Electronic Database for Global Education), though it may be satisfied by a bachelor's degree plus 5 years of progressive, post-degree experience in the specialty, which is considered to be the equivalent of a Master's degree. If the position requires a PhD, however, only a PhD or its foreign equivalent will suffice.
Eligibility Criteria
  Generally, an EB-2 immigrant must have a job offer and labor certification. The USCIS, however, may waive these requirements if it is in the nation's interest to do so. To establish eligibility for the NIW, the following conditions must be met:
-The person must seek employment in an area of substantial intrinsic merit;
-The benefit bestowed will be national in scope;
-The national interest would be adversely affected if a labor certification were required.
These requirements are fulfilled by the following:
-You must agree to work full-time in a clinical practice. For most physician NIW cases, the required period of service is 5 years;
-You must work in a primary care (such as a general practitioner, family practice petitioner, general internist, pediatrician, obstetrician/gynecologist, or psychiatrist) or be a specialty physician;
-You must serve either in a Health Professional Shortage Area (HPSA), Mental Health Professional Area (MHPSA – for psychiatrists only), a Medically Under served Area (MUA), or a Veterans Affairs facility, or for specialists in a Physician Scarcity Area (PSA);
-You must obtain a statement from a federal agency or a state department of health that has knowledge of your qualifications as a physician and that states your work is in the public interest (this statement is known as an attestation).
Application Process
To apply for a green card you will need to file Form I-485, Application to Register Permanent Residence or Adjust Status. This can be a complicated and arduous process requiring much supporting documentation. As lawyers, we can help you properly complete all required forms and submit all supporting evidence required for the EB-2 NIW.
Supporting Evidence for Form I-485
The following evidence should be submitted with Form I-485:
-Two passport-style photos
-Form G-325A, Biographic Information, if you are between 14 and 79 years of age
-Copy of approval notice for Form I-612, Application for Waiver of the Foreign Residence Requirement (under Section 212(e) of the Immigration and Nationality Act, as Amended)
-Copy of Form I-797, Approval notice for I-140 (Immigrant Petition for Alien Worker)
-Copy of birth certificate or other records of your birth
-Copies of all passport pages with non-immigrant visas
-Evidence of final compliance with the 3 or 5 years service requirement to be submitted no later than 120 days after the completion of the service requirement (evidence of compliance must be submitted at intervals while the I-485 is pending)
-Form I-693, Medical Examination and Vaccination Record
-Photocopy of the Form I-797 Approval Notices for all extensions and changes of status
Photocopy of the Form I-20 or IAP 66 school records (front and back, including all school annotations)
-Applicable fees
-Form G-28, if you have an attorney representing your case.