A lawful permanent resident (LPR) within the U.S. must be cautious about traveling abroad, as doing so may result in the person's green card being invalidated and their residency being deemed abandoned.Permanent residents are free to travel outside the United States, and temporary or brief travel usually does not affect an LPR's permanent resident status. If, however, it is determined that an LPR did not intend to make the United States your permanent home, they will be found to have abandoned their permanent resident status.  A general guide used is whether the LPR have been absent from the United States for more than a year.Under 8 C.F.R. §211.1(a)(2), if an LPR remains outside the U.S. for more than one year, the regulations require the invalidation of the LPR's green card. Thus, if an LPR plans on being absent from the United States for longer than a year, it is advisable to first apply for a reentry permit on Form I-131. (http://www.uscis.gov/green-card/after-green-card-granted/international-travel-permanent-resident). (Note, however, that possession of a reentry permit does not prevent the government from looking into whether the holder of the permit abandoned their residency; it merely prevents the government from relying on the length of the travel as the sole basis for determining abandonment.)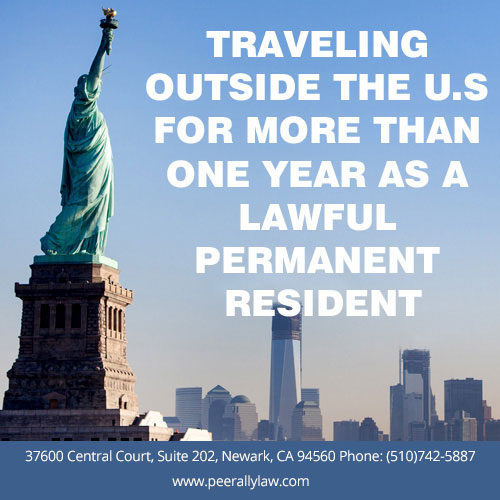 A trip abroad lasting more than one year, however, does not automatically result in the abandonment of residency. If a visit abroad is temporary, residency may not be deemed abandoned. INA §101(a)(27)(A), 8 U.S.C. §1101 (a)(27)(A). A visit is temporary if (a) the visit abroad is for a period relatively short, fixed by some early event; or (b) the visit will terminate upon an event having a reasonable possibility of occurring within a relatively short period of time (e.g. taking care of an ill relative). Matter of Huang, 19 I&N Dec. 749 (BIA 1988).
Moreover, even if the event prompting the travel abroad does not occur within a relatively short period of time, the visit may be considered temporary if the person has the continuous, uninterrupted intention of returning to the U.S. The criteria for determining whether the person had continuous, uninterrupted intent – a subjective state of mind – include family ties, property holdings, and business affiliations in the U.S. and the foreign country to which they traveled. Chavez-Ramirez v. INS, 792 F.2d 932 (9th Cir 1986)
In Hana v. Gonzales (400 F.3d 472, 475-77 (6th Cir. 2005) the court determined a LPR's (lawful permanent resident) trip to Iraq was temporary despite the facts that the LPR had a permanent job, real property and family in Iraq, had never worked, paid taxes, or procured a bank account or driver's license in the U.S., and was absent for the vast majority of four years. Nevertheless, her trip was deemed temporary because her failure to put down roots was due to her desire to help her family flee Iraq and to take care of her terminally ill mother.
A child from Iran who was out of the U.S. for six years due to his father's heart condition and the events of Sept.11, 2001 was found not to have the intent to abandon his residency. Khoshfahm v. Holder, 955 F.3d 1147 (9th Cir. 2011). A lawful permanent resident whose third trip out of the U.S. exceeded one year was found, upon citing the Chavez-Ramirez factors, not to have abandoned his residency.
If you are a lawful permanent resident and plan on travelling outside the U.S. for significant length of time, especially if the trip will last a year or longer, it is highly advisable that you speak with an immigration attorney prior to your trip. We can discuss with you the circumstances surrounding the travel plans and help determine the best course of action to minimize the chances of your residency being deemed abandoned