Below are few of very frequently asked questions. Note that it does not cover all aspects of EB questions, but it at least cover some very important issues related to H1B, and L1 visas. Hope it helps.
1. Beneficiaries who haven't received their necessary degree
As long as the beneficiary has completed the necessary requirements to get the degree before the H-1b petition is filed, the beneficiary is considered to possess the qualification even without yet receiving the physical diploma. The H-1b can't be approved if there is course work pending at the time of filing.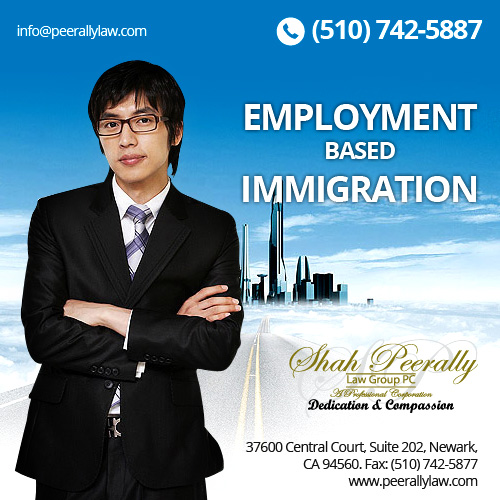 2. Part-time H-1bs
Yes, it is possible. The LCA will carry a designation of "part-time employment" listing part-time hours. You can have more than one H-1b at the same time as well.
3. Self-Petitioning, where owner of the company is the beneficiary
While it is impossible in PERM, it's possible for a company owner to have that company file an H-1b petition for the owner, however, case law suggests that if there is a >50% ownership, it may defeat the employer-employee relationship which is necessary for H-1b petitions.
4. Transfers before October 1 start date are possible
If you have an approved H-1b that will begin in the future on October 1, another company may file a transfer petition. You just need confirmation of your H-1b approval. No pay-stubs needed. This transfer can be done whether you're in the US or outside.
5. Cap gap protection for F-1 and J-1
Filing on April 1 for H-1b status that can only be approved as early as October 1, is a problem for those in the US seeking to change status from their current nonimmigrant visa. If a person's status will expire before H-1b status can be granted, then they will not be able to change status to H-1b, unless they are present on F-1 or J-1 status since their status is "d/s," which is normally 60 (F-1) and 30 (J-1) days grace period beyond completion of studies. An F-1 student on OPT will have their work authorization extended as necessary as well. A student who is eligible for the cap-gap extension must work with a designated school official (DSO) at the student's school to receive an updated Form I-20. If a student is eligible for the cap-gap extension of OPT, the student can continue to work while the update to his or her Form I-20 is being processed. Because the cap-gap extension is automatic, the updated Form I-20 is not required for a student to continue working; it merely serves as proof of the extension of OPT employment authorization. To assist a student in obtaining an updated Form I-20, the employer may need to provide the student with an I-797 receipt or approval notice issued by USCIS for the H-1B petition filed on the student's behalf. This receipt notice serves as proof of filing the H-1B petition and may need to be submitted to SEVP in order to update a student's Form I-20 to show eligibility for the cap-gap extension.
6. When a visa application is called for further administrative action under 221(g)
Under INA 221(g) the consulate has discretion to take an H-1b visa application into further review if they find there are missing documents/information, or the H-1b petition lacked merit. If the former is the case, you will be allowed to return to the consulate later with the documents, but if the latter is the case, they will send it back to USCIS so that the petition can be revoked. It seems that consulates have been abusing 221(g) to randomly audit H-1b cases.
7. Paying wages, issue of benching, procedure to terminate
The employer must pay the petition-stated within 30 days of the employee's entry or 60 days from the employee's change of status application if the employee is in the US. It must be at least 100% of the prevailing wage. Benching an employee due to a lack of work, reducing salary below prevailing wage, is not allowed. If an employer is no longer employing the beneficiary, "bona fide termination" of the employment relationship is triggered only if it sends a letter to the USCIS director who approved the petition to revoke the I-129, and pay to send the beneficiary (but not his H-4 dependents) back home. If this is not done, the employment relationship is still intact and the employer will be liable for back-pay. Mere notice of termination without sending a letter to USCIS to cancel the I-129 and paying to send the employee back =/= termination. See 20 C.F.R. §655.731(c)(7)(ii).
8. Circumstances where wages need not be paid
If the H-1b worker is non-productive due to conditions unrelated to the employer, for example, the worker wants to take a leave to tour the US, care for an ill relative, etc, or if the worker is rendered unable to work, for example, maternity leave, physical injury, etc, then the employer is not obligated to pay the employee during that time off (unless there is a benefit plan/statute to provide wages even on such leave, i.e. ADA, Family & Medical Leave Act) and the H-1b status also remains intact.
9. H-1b visa re-stamping (note that you can't re-validate the visa in the US)
As long as the H-1b visa hasn't expired, you can leave and return, even if you transferred to a new H-1b employer. However, if the visa on your H-1b has expired, and you leave the US, you will have to get a visa stamp. You can get a re-stamping as a TCN in Mexico or Canada. For this, your most recent visa must be an H-1b however, so, if you entered as and F-1, then C/S to H-1b, you can't get an H-1b stamp on your passport as a TCN. Bring valid passport, approval notice, I-129, offer letter, resume, degrees, and experience letters if any, and apply at the consulate.
10. Additional LCAs and filing I-129 amendment
There's no provision about it, but you must file a new LCA if there is a material change, such as a change in occupational classification by material changes in duties, or a pay cut, or a change in hours (ie going from F/T to P/T, or vice versa).
It is now important to also file an Amendment based on the matter of Matter of Simeio Solutions LLC. Please check slide share
11. Impact of Corporate Restructuring on H-1b workers
"An amended H-1B petition shall not be required where the petitioning employer is involved in a corporate restructuring, including but not limited to a merger, acquisition, or consolidation, where a new corporate entity succeeds to the interests and obligations of the original petitioning employer and where the terms and conditions of employment remain the same but for the identity of the petitioner." (See INA § 214 (c)(10)). So, generally, if the job duties still remain the same and there are no material changes in other terms of the employment of the individual, a successor-in-interest does not have the file a new H-1b petition. Successor-in-interest would be an entity that takes the interests and obligations of the original petitioning employer.
12. Maintaining status even after bona fide termination – extraordinary circumstances issue
If paystubs are not available, you can cite 8 CFR 214.1(c)(4) Extensions of status: Timely filing and maintenance of status, which provides:
"An extension of stay may not be approved for an applicant who failed to maintain the previously accorded status or where such status expired before the application or petition was filed, except that failure to file before the period of previously authorized status expired may be excused in the discretion of the Service and without separate application, with any extension granted from the date the previously authorized stay expired, where it is demonstrated at the time of filing that:
(i) The delay was due to extraordinary circumstances beyond the control of the applicant or petitioner, and the Service finds the delay commensurate with the circumstances;
(ii) The alien has not otherwise violated his or her nonimmigrant status;
(iii) The alien remains a bona fide nonimmigrant; and
(iv) The alien is not the subject of deportation proceedings under section 242 of the Act (prior to April 1, 1997) or removal proceedings under section 240 of the Act."
Argue that the employer failed to pay and illegally benched the employee, and that the expectation of returning and threat of immediate termination kept the employee from seeking back-wages. Thus, the delay was due to extraordinary circumstances beyond the alien's control. If there was "bona fide terminated" as in the employer notified USCIS to revoke, the alien should show that it filed a complaint seeking back wages, and also cite language from the May 30' 08 extraordinary circumstances memo.
As evidence, the alien may file a complaint to the DOL (1-year statute of limitations) via form "WH-4" alleging LCA violations, and include it in a transfer petition in lieu of paystubs.
Case law supports this argument as well:
"An employee may not be considered properly terminated for purposes of cutting off backpay and frontpay unless the employer follows 20 C.F.R. §655.731(c)(7)(ii) and notifies USCIS that the employment relationship has been terminated so that the I-129 petition is canceled and provides the employee with payment for transportation home. Matter of Rung, supra.; «Amtel Group of Florida, Inc. v. Yongmahapakorn, 04-LCA-87 (OALJ Sept. 29, 2006), 2006 WL 2821406» [where employer notified employee but never notified USCIS of termination of H-1B it remained valid until the end of the LCA period and the former employee was able to collect back pay and interest]."
If USCIS disagrees, while they may deny the extension, they can still approve the petition, and allow for consular notification. In such a case, any valid H-1b visa will be voided under 222(g) (aliens present in the US while being out of status), so you will have to get a stamping in your home country. 222(g) eliminates the chance to re-validate.
13. Porting H-1b employment when employee has no paystubs and won't seek backpay
If you are not willing to confront your prior employer to at least get 3 months of paystubs in exchange for not reporting them to the DOL, and you have a valid H-1b visa, it would be better to file for consular notification. Although you can start working for the new employer because you meet porting requirements, you would have to stop working and leave immediately upon the petition approval, then return to the US at a port of entry on the still valid visa along with the new approval notice.
In the alternative, if you try for an extension, and USCIS asks for pay stubs and you fail to show them, you can cite 8 CFR 214.1(c)(4), extraordinary circumstances as to filing post-termination, and request USCIS to forgive late filing. 30 days w/o paystubs is usually accepted, but USCIS can declare that you're out of status, triggering 222(g), and you'll be required to get a new visa.
Finally, if you don't have a visa (ie, you entered on F-1 then did COS to H-1b), then you may as well file an extension. If USCIS asks for more current paystubs, and you have none, cite 8 CFR 214.1(c)(4), extraordinary circumstances with proof you maintained status (emails, etc). USCIS can decline to grant the extension, but you may still go back home for stamping.
14. Porting from a cap-exempt employer to a cap-subject employer
If a person started their H-1b status with a cap exempt employer, they are free to port (transfer) to a cap-subject employer, BUT there has to be cap numbers available to port to the cap-subject employer since the employee was never counted to the cap previously. The start date would generally be October 1 on the I-129 (at the earliest, the first day quota H-1Bs are issued), but the employee can immediately transfer upon filing the petition, before October 1 w/ a valid LCA. TheEfren Hernandez letter/memo has more details.
15. The last action rule with respect to USCIS approvals
Note that the last action USCIS takes governs the alien's status. Therefore, if, for example, an H-1b holder is facing termination, and files an H-4 change of status, but later finds an employer and files an H-1b transfer, and the H-1b gets approved before the H-4, then the alien is in H-4 status. If you try to revoke the H-4, what happens is you create a lapse of unlawful presence (ULP) from the time your original H-1b terminated to the time the subsequent H-1b petition was filed. The only way to go back to H-1b is to file another petition.
16. Leaving to a new H-1b employer and returning to the original H-1b employer, and multiple H-1bs in place
You can go back to any H-1b employer if the validity period (see the approval notice and I-94) still remains good. This also means that even if an H-1b transfer was successful, you can stay with your current employer and not transfer. However, if an H-1b employer has revoked the I-129, you can't go back to them freely, and they will have to apply for an H-1b transfer to get you back. Note that you can have multiple H-1bs in place, and they are all valid as long they haven't been revoked and you're working for an H-1b employer. If you seek to work for more than one employer at the same time, you need to have filed for "concurrent" employment.
17. H-1b bridge issue where multiple transfers are filed at once
If you're with company A, then company B files a transfer petition, and you're working for company B while that transfer is pending, another company (company C) may still file a transfer petition from company B (provide pay-stubs from company B), BUT if the pending petition with company B is denied, you can't continue with company C, even if their petition is approved because the bridge between A to C is broken.
18. Things can be done while a transfer to a new employer is pending
While a transfer petition is pending, you may start working for that new employer. You may also leave the country, and return pursuant to AC21 visa portability rules, with the following conditions met when trying to reenter: i) you possess a valid unexpired visa from the previous employer, ii) your H-1b I-94 must be currently valid or not have been expired for more than 10 days, and iii) proof that you filed a timely new petition (an I-797 receipt notice for the pending petition).
19. Visa stamps of prior H-1b employer is valid for subsequent employers
If the H1B employee has an unexpired H1B visa stamp in the passport with a prior employer, that visa remains valid until its expiration date for use at the time of reentry from abroad to work with a new H1B employer. Of course, the new H1B employer has to obtain a new H1B petition approval for that employee to work at its work location/s. Even though the visa stamp will contain the name of the prior H1B employer, it may be used at the time of entering the United States with the H1B petition approval of the subsequent H1B employer / sponsor, as long as the H1B employee is eligible for entry in H1B status. The important thing to remember here is to request that the POE Inspector stamp the I-94 card valid until the date of the H1B approval notice with the present employer and not the earlier visa validity date stamped in the passport with the earlier employer. To avoid this problem altogether, some H1B employees prefer to obtain a new H1B visa stamp from a U.S. consulate. This new visa stamp carries a notation with the name of the new employer and a new validity date.
20. Time on L-1 and H-1b
Your time on L-1 status counts toward time on H-1b status and vice versa. There is a 6-year time limit on H-1b, 5-year time limit on L-1B, and 7-year time limit on L-1A.
21. H-1b beyond the 6-year time limit
Normally, if you hold H-1b for a 6-year period (being on H-4 doesn't count toward this), you must leave the country for 1 year before you can go have an employer file a new H-1b case under the quota again. However, if 365 days have passed since the alien's labor certification or I-140 wasfiled, then the alien may apply to extend its H-1b beyond the 6 year limit by 1-year increments (AC21 106(a)). If an I-140 is approved, the alien may extend its H-1b beyond the 6-year limit by 3-year increments (AC21 104(c)). Also note that you needn't be in H-1b status if you request an additional period of stay beyond the 6 years.
Note that you can apply for the 1-year extension before 365 pass from the date the labor cert/I-140 was filed, just as long as 365 days WILL pass before the 6-year limit is met. If the 6th year will be met before 365 days pass from the date the labor cert/I-140 was filed, then the alien will have to leave the country/change status, and wait until such time passes before going back on H-1b to get the 7th year extension, unless it can get an I-140 approved before the 6th year limit is met (in this case, you may apply for a 3-year extension, see also #16, premium processing on I-140).
22. Premium Processing on I-140 when 6th year of H-1B expired/will expire w/i 60 days
You can apply for premium processing on I-140 petitions if the beneficiary will reach the end of its 6thyear of H-1b within 60 days, or even if you reached the end of your 6th year on H-1b, and are in a status other than H-1b, or out of the country. You must, however, be ineligible for a 7th year H-1b under AC21 106(a) (the 1 year extension b/c 365 labor cert was filed 365 days ago). This is useful so that you can be eligible for a 3-year extension on H-1b (you can get such an extension when you have an approved I-140, under AC 21 104(c)).
23. Past H-1b approved, can you go back on unused "remainder time" w/o being s/t cap
If you leave the US or change status, and haven't exhausted your time on H-1b (i.e. you stayed in H-1b status for 4 years), a new company can file an H-1b for to bring you back without having you be counted toward the cap. You can request your H-1b for as much time as you have remaining, up to 3 years. To get a fresh 6 years, you must leave the US for more than 1 year before the new petition is filed and apply to be counted under the cap again and get a fresh 6 years.