SHAH PEERALLY LAW GROUP PC OPENING UP IN SAN FRANCISCO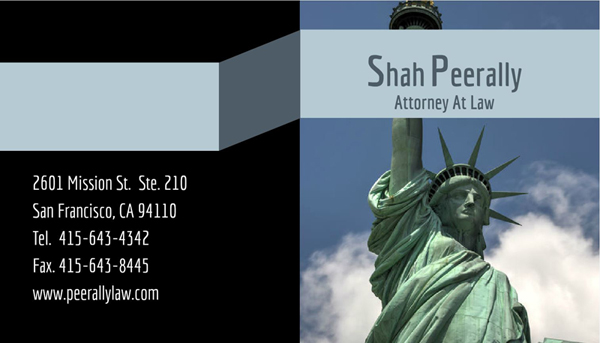 2601 Mission Street,
Suite 210 San Francisco,
CA 94110
Phone: (415) 643-4342
San Francisco – March 28th  2015 – The Shah Peerally Law Group PC (SPLG), a well- known law firm in the Bay Area, announces that it is now opening its second office in San Francisco.  After years of popular demand, SPLG has finally decided to make the big jump and make its presence in San Francisco.  SPLG, founded by prominent attorney Shah Peerally, has served the immigrant community in immigration law and other related needs for more than 10 years. The new San Francisco location opened on February 20, 2015 on the corner of 22st and Mission Street in the great city of San Francisco. 
Over the years SPLG headed by Shah Peerally has been recognized internationally as a law firm which combines business and family needs with compassion and dedication. The founder, Shah Peerally, has been selected among Northern California's Top Young Outstanding Lawyers by the San Francisco Magazines for 2013 and 2014, and a Rising Star lawyer on Superlawyers.com in 2013 and 2014.  For four consecutive years, Mr. Peerally has carried a superb lawyer badge on Avvo.com of 10/10. In addition, the law firm has been serving a number of small and mid-sized companies, which have placed their employees in the Fortune 500 companies.
Since January 2010, Shah Peerally has been well-known for bi-weekly radio shows on KLOK 1170 am. The shows cover topics such as H1Bs, PERM labor certifications, E visas, L visas, adjustment of status, family petitions and other immigration issues.  On the Shah Peerally Law Show, every Monday and Thursday listeners are allowed to call-in live and have their questions answered during the show. The work of Shah Peerally at the Shah Peerally Law Group PC has been acclaimed by Congress members Nancy Pelosi and Barbara Lee.  Shah Peerally's articles, quotes, and interviews regarding his work and  his law firm have appeared on CNN, NPR, NDTV, Times Now, San Jose Mercury News and other well known publications and networks.
With the addition of the San Francisco office, Shah Peerally Law Group PC wants to continue to bring the best of service to our communities. This new location is a logical progression after 10 years of excellent practice.  The Shah Peerally Law Group PC has been recognized not only for its high quality work, but also for its civil rights work.  The same kind of dedication combined with strong compassion is now available to assist people in the San Francisco area. With this new endeavor, SPLG is excited to begin providing exceptional service to the San Francisco community.
For more information, call (415) 643-4342 or email [email protected] and visit www.PeerallyLaw.com